LBM - London Bus Magazine

The London Bus Magazine is another flagship publication from LOTS. In regular production since 1972, it is produced four times per year, in Spring, Summer, Autumn and Winter. It is a fully illustrated, glossy 64-page magazine, with around 90 pictures per issue. One or two major articles feature in each issue, including historical events covering a century of buses in the capital and current events. There are features on bus classes, garages, areas of operations, manufacturers and operators in our area, as well as selected photographic reviews.
Each issue includes a section entitled "Around & About" devoted to recent developments, supported by illustrations and informative captions. In the Autumn or Winter issues we include a review of the London area events of the preceding year.
An index to all articles is available here.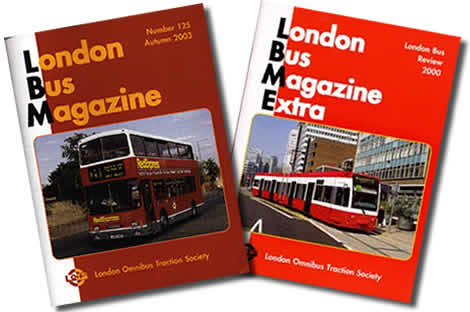 LBM can be obtained on subscription, or individual copies can be purchased from our sales list or from our sales stand at events and meetings, and at some transport bookshops.